LANCASTER
BRAZILIAN JIU JITSU
LANCASTER COUNTY × PENNSYLVANIA
Schedules and Information below for our Adult Classes, Kids Classes, and Women's Fitness/Self-Defense
ADULT CLASSES
ADULT CLASS HOURS
Monday - Gi Intermediate - 6p–7:30p
Tuesday - Gi Fundamentals - 6p–7:30p
Wednesday - No-Gi - 5:30p–7p
Thursday - No-Gi Fundamentals - 5p–6p
Friday - Open Mat - 6p–7:30p
Saturday - Gi Intermediate - 8:30a–10a
Gi Fundamentals:
The Gi Fundamentals class covers the basic building blocks of Brazilian Jiu Jitsu, This class instruction consists of principles and techniques for positional control, submissions, counters, and escapes, This class is perfect for the beginner through 2 year student or anyone looking to revisit the fundamentals! What is a Gi? Here is your answer.
Gi Intermediate:
The Gi Intermediate class is focused on continuing the development of the principles a student already knows, from classes like our Gi Basics. In this class less time will be focused on explaining basics and more time will be spent on detailed instruction, more advanced techniques, and proper application.
No-Gi:
The No-Gi class reflects a combination of the Self-Defense techniques and "no grip necessary" Gi techniques. The speed and application of principles and techniques in a No-Gi scenario are unparalleled, creating a fun and challenging opportunity for learning. This class will also cover a mix of intermediate techniques that keep you thinking of exciting possibilities as your knowledge of Brazilian Jiu Jitsu grows.
KIDS CLASS HOURS
Thursday - No-Gi - 6p–7p
Saturday - Gi - 10:30a–11:30a
Gi and No-Gi:
The Gi and No-Gi classes cover the fundamental building blocks of Brazilian Jiu Jitsu, just like the adult class, but with safety limits in place and an emphasis on fun! Kids class instruction consists of principles and techniques for positional control to stop a bully or attacker, submissions to persuade an attacker to stop, and counters/escapes to avoid an attack, This class is perfect for students ages 6yr through 14yr. Additionally, fun social building and energy expelling games are played at the end of each class!
What is a Gi and how do ranks/belts work? Here is your answer.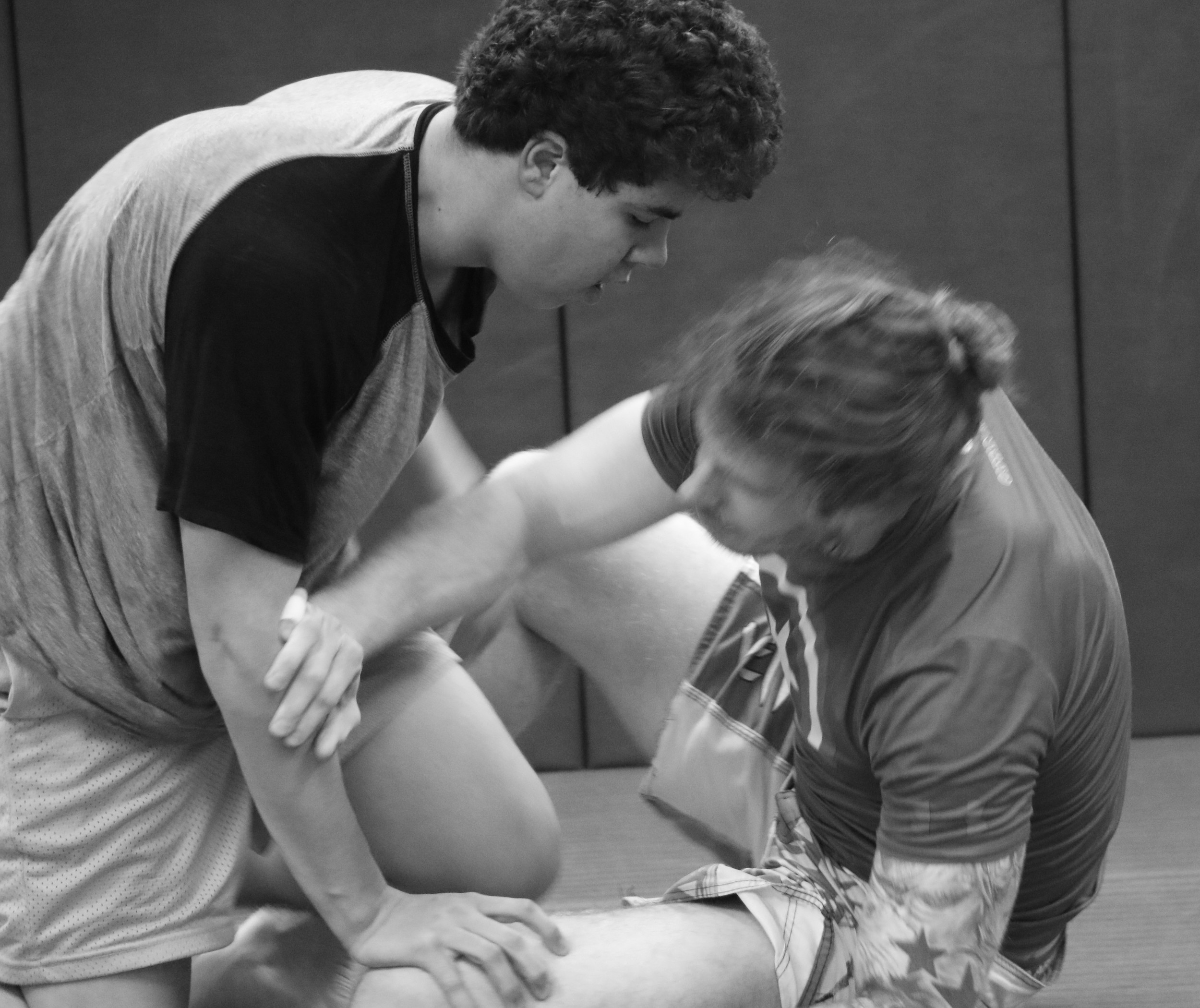 Mark Sweigart
Brown Belt
Mark has been training Brazilian Jiu-Jitsu since 2010. On his first day of class, Mark was amazed at how smaller opponents, 70-80 lbs lighter, could control him with little effort, rendering his physical abilities useless. From that point on, Mark was hooked, training every chance he had.
Mark received his purple belt from his long time instructor Brian Fisher. Mark has experience in several other martial art disciplines as well, none of them attracting him in the way BJJ has. Beyond competing in Brazilian Jiu-Jitsu/Submission Grappling tournaments, Mark has also competed in Mixed Martial Arts. This has given him an understanding of how to adapt traditional Brazilian Jiu-Jitsu into MMA.
Mark is a Certified Strength and Conditioning Specialist, CSCS, through the National Strength and Conditioning Association, the leading sports performance institution in the country. Having received his Bachelor's Degree in Exercise Physiology from West Chester University, Mark has a deep understanding of the body's physiology and applies this knowledge to his martial arts instruction.
Shane Mock
Black Belt
Shane began training in 2003, receiving his Black Belt in 2011 from Rosendo Diaz. Shane has been heavily involved in our affiliate school, Berks Brazilian Jiu-Jitsu since 2006, where he still teaches today, in addition to his LBJJ classes.
He has been a referee for NAGA since 2008, traveling all over the world. In addition to refereeing, Shane is an avid competitor and has competed at every level, still competing today.
Keith Neff
Black Belt
Keith started Brazilian Jiu-Jitsu training in 1999 under Royler Gracie-David Adiv 1st degree Black Belt Rosendo Diaz. Keith has been teaching BJJ classes since 2003 and opened the Lancaster BJJ school with Brian Fisher (BJJ Brown Belt) in 2008. In October of 2009, Keith received his Black Belt from Royler Gracie, David Adiv and Rosendo Diaz.
Location: 342 North Reading Rd, Ephrata, PA 17522
Phone: (717) 799-8692 call/text